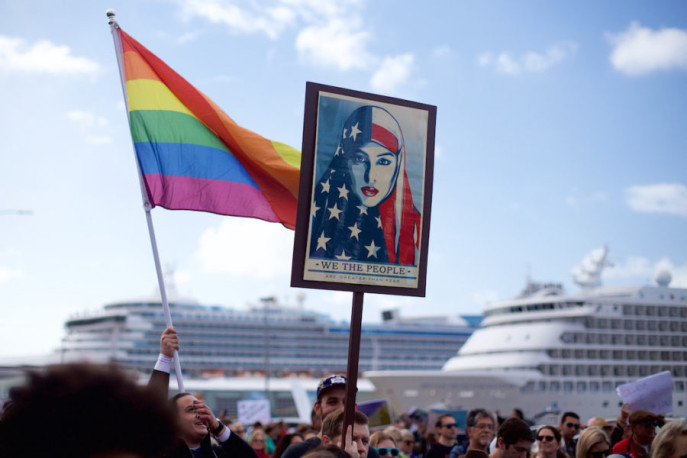 by: Ellen C. Caldwell
for New American Paintings
In the last few weeks, artists have gotten involved in creating signs, banners, and other creative march accoutrements for the Women's March on Washington, as well as at least 240 other domestic and international cities. Artists such as Shepard Fairey, Jessica Sabogal, and Ernesto Yerena Montejano, donated their time and creativity, offering free poster downloads like these. These ten prints were seen in many shapes, sizes, and iterations at marches worldwide.
Artists, writers, and academics have gotten involved in other ways too. Françoise Mouly, art editor for The New Yorker, and her daughter Nadja Spiegelman, a writer and graphic novelist, started Resist! in the wake of the United States' November election. They released a call for visual submissions and created an art-packed paper that a team of Resisters distributed during the marches. The tabloid newspaper is filled "political comics and graphics by mostly female artists" who submitted art in the name of resistance.
Historians and archivists like those at the Smithsonian, Bishopsgate Institute in the UK, Oxford's History Workshop Journal, and many other institutions are all actively archiving this historical march as well, collecting posters and other ephemera as well as first-hand accounts from people at marches worldwide…
Image credit: "Women's March 2017" featuring one of Shepard Fairey's "We the People" downloadable prints as a sign at the Women's March in San Diego, CA | by Bonzo McGrue is licensed under CC BY 2.0.