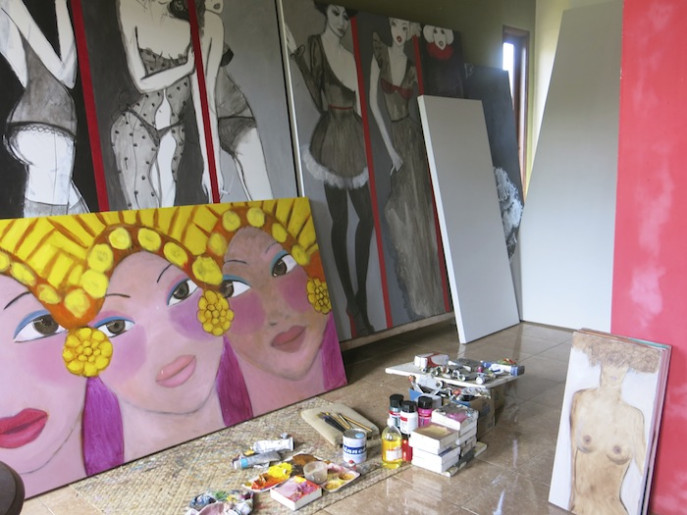 by Ellen C. Caldwell
for The Artsy Forager
Over the past five months, Artsy Forager has been nice enough to welcome my guest posts about my arts residency in Bali. During this time, I have shared some of my favorite experiences, artists, studio visits, and reflections.
To end this series on a high note, I saved the best for last. One of the nicest and most welcoming artists and people I met during my residency is woman named Ni Nyoman Sani. She welcomed me to her home, to Mother Art Space (then called Seniwati Art Space), and to her family's shared creative workshop and gallery Muja Art Studio. Sani also helped to arrange multiple interviews with talented female artists ranging from internationally known painters like Mangku Muriati to younger emerging artists like Emy Triani and Ni Ketut Ratnasih.
Part of Sani's charm and charisma is that she seems to always put others first in such a generous and heartfelt way. She shied away when I focused questions on her, instead always insisting on highlighting the work of her fellow artists and family members.
With this in mind, I am going to take a few moments introduce her work with Mother Art Space and her multi-generational family studio, and then I will share my interview with Sani about her own work and art practice, in order to turn the tables and reflect some of her light back onto her art, work, and passion.