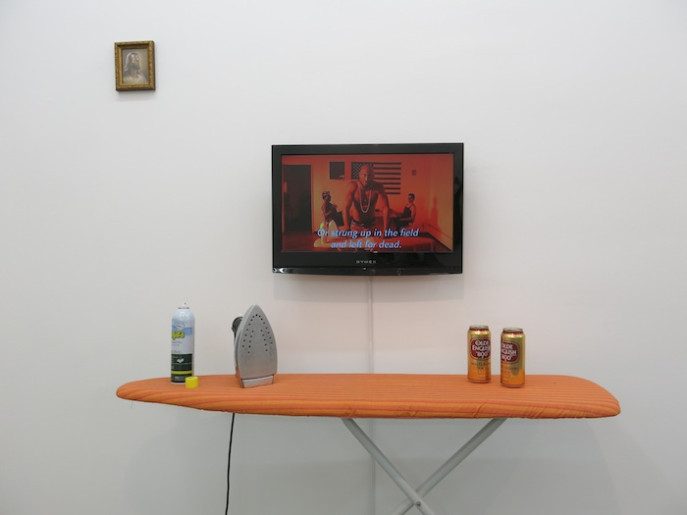 by: Ellen C. Caldwell
In A Smile That Ain't a Smile But Teeth, artist, performer, and storyteller, Umar Rashid opened his first solo show under his aforementioned birth name this past weekend at the Reginald Ingraham Gallery. In the art world, Rashid is better known as "Frohawk Two Feathers"—his nom-de-plum and alter ego. This Homeric and Tolkien-esque raconteur is known for reweaving and reinventing a master narrative based on the supposition that France and England had united as "Frengland." In his painted and sculpted saga, Two Feathers invites viewers through tales of woe and into bloody battles, introduces them to traitorous heroes and lost loves, and amuses them with his wit, humor, and biting sense of irony.
Rashid has cultivated an empire of mythical proportions – both in his development of the Frenglish Empire and in his creation of his artistic alter ego. Writers and critics often examine Two Feathers and his empire through an art historical and somewhat psychological lens, supposing and suggesting that he is playing god historically and make-believe more personally, as he inserts himself and his friends into the Frenglish narrative. In A Smile then, it is particularly interesting to see Rashid flip this script and wholly own his name, portraits, and the very game he originally wrote through the Frenglish saga.
In his own words, Rashid aimed to "examine the self-identity of the black man in America." Exploring the current political climate, inherited historical truisms, and other influences from his upbringing, Rashid reflects and refracts murky worldviews, deeply engrained stereotypes, and grayish truths, all while illuminating mishaps, mistakes, and mistruths of master American mythologies.