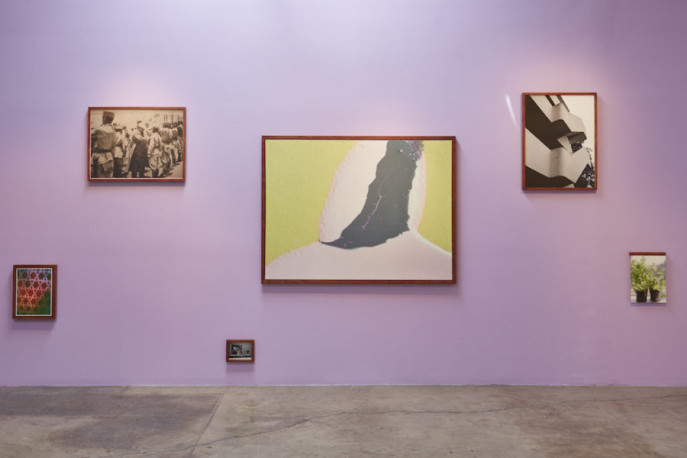 by: Ellen C. Caldwell
for New American Paintings
Grace Ndiritu's solo show A Quest for Meaning Vol. 7: Bright Young Things opened at Klowden Mann last week. Ndiritu's work offers viewers a refreshing mix of definitive push and pulls to the viewer experience.
In a piece called "African Textiles," for instance, Ndiritu presents viewers with a detailed photograph of textiles, printed on a fibrous paper, thus blurring the line between both textile and photography, representation and imitation. Similarly, in her "Abstract Expressionism" series, Ndiritu paints small works on felt using industrial paint, then she photographs the work, then blows it up, and finally prints it on canvas. This results in a work that then serves as both a painting and a photograph on canvas. 
The space itself too is complicated as Ndiritu's design aesthetic guides viewers through each room. Ndiritu's background is in textile art and some of those underlying design principles come out in the wall colors, lines, and geometric, color-block shapes that frame the exhibit and rooms themselves. Using muted colors that verge on pastels—yet are too bright to be pastels themselves—Ndiritu's space is fresh and hip, "bright" and "young." She uses a superflat aesthetic that mimics the rage in contemporary design practices, so that the space feels like it could be commercial, yet it frames and highlights each art piece hanging above it beautifully and rhythmically in a purely aesthetic way.
Through her troubling of established mediums, Ndiritu challenges viewers to question what they know, an underlying theme pushing and pulling throughout her show in many more ways than one…