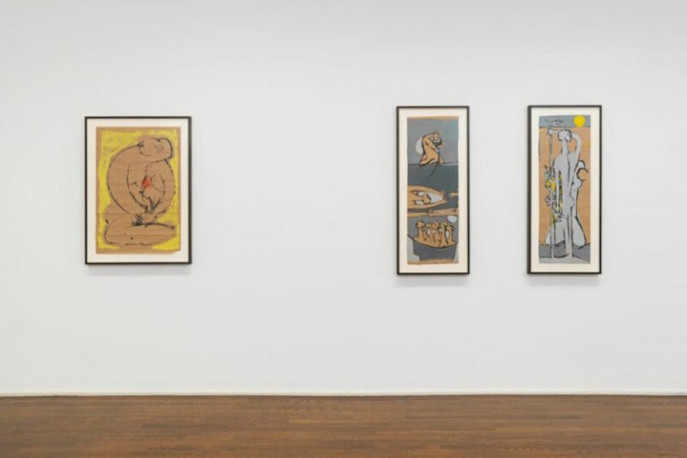 by: Ellen C. Caldwell
for Riot Material
Hauser & Wirth's exhibit, Dark Years, 
features three gallery floors of work from painter Luchita Hurtado. Venezuelan-born and Los Angeles-based, Hurtado is 98 years old and beyond deserving of the show and recognition. This is a real celebration story of a life-long artist finally getting her due, 
with many solo shows in the works for the coming years
, including her 
upcoming exhibit a
t the Serpentine Gallery in London.
Simply put, Hurtado's work is extremely inviting and it makes you want to take in each and every work. She mixes bright, bold colors with abstract or figurative forms, using a variety of mixed media, ranging from crayons and graphite on paper to oil on canvas. They are big, bold, and ready for a viewer to devour.
Much of the work feels largely experimental, as Hurtado combines crayons with oil and ink to see what the result might look like. "What would happen and how fast could I go?," Hurtado asks of herself in a video installed at the gallery, featuring an interview with the artist. There is joyfulness in her discussion of her work, and again, through her own voice and image, the video helps to make the work feel immediately relatable…