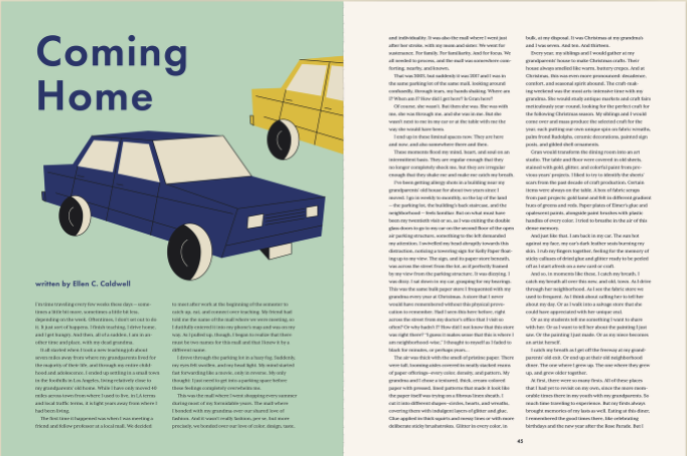 By: Ellen C. Caldwell
For: Dear Lois, issue 2
I'm time traveling every few weeks these days — sometimes a little bit more, sometimes a little bit less, depending on the week. Oftentimes, I don't set out to do it. It just sort of happens. I finish teaching, I drive home, and I get hungry. And then, all of a sudden, I am in another time and place, with my dead grandma. 
It all started when I took a new teaching job about seven miles away from where my grandparents lived for the majority of their life, and through my entire childhood and adolescence. I ended up settling in a small town in the foothills in Los Angeles, living relatively close to my grandparents' old home. While I have only moved 40 miles across town from where I used to live, in LA terms and local traffic terms, it is light years away from where I had been living. 
The first time it happened was when I was meeting a friend and fellow professor at a local mall. We decided to meet after work at the beginning of the semester to catch up, eat, and connect over teaching. My friend had told me the name of the mall where we were meeting, so I dutifully entered it into my phone's map and was on my way. As I pulled up, though, I began to realize that there must be two names for this mall and that I knew it by a different name…