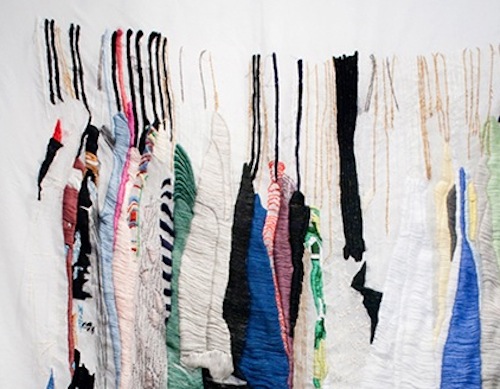 Allison Watkins (NAP #109) uses hand-stitched embroidery to bring her drawings of clothing to life, creating a sort of trompe l'oeil effect where her textile "paintings" are imitating and standing in place for other textiles.
Watkins uses her own clothing as source imagery and inspiration for her work, which is why there is probably such a feeling of warmth, comfort, and familiarity embedded in the very fabric and overall feel of the pieces. In her works, each item of clothing hangs fantastically in an undefined closet as if floating in an otherworldly space where it is just us—the viewers, and the clothes. These items take on a life of their own, calling attention to the uniqueness of our clothing and the delicate details that differentiate and define our very own dress and style.
I spoke to Watkins about her art and inspiration, shedding light on her process and plans for future projects.