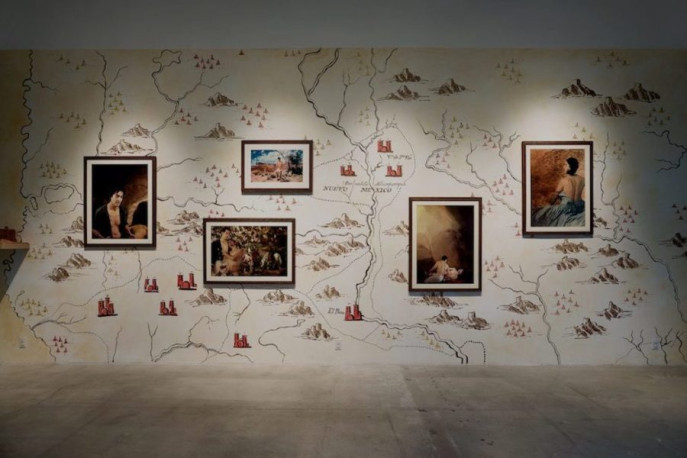 by: Ellen C. Caldwell
for Riot Material
In Bone-Grass Boy: The Secret Banks of the Conejos River, Ken Gonzales-Day brings his ongoing inquiry of erasure, history, and the history-making process itself full circle. First shown in 1993-96, the updated Bone-Grass Boy made its debut at Luis De Jesus Los Angeles in 2017 and now shows at BRIC House in Brooklyn, NY as part of Reenactment, a group show curated by Jenny Gerow. This updated version of Bone-Grass Boy features Gonzales-Day's original show, with the addition of new work, reflections, and introductions.
Upon entering the gallery space, viewers feel immediately that they are entering a place of rich narratives and storytelling. The large entryway wall features a neutral terracotta palette, depicting a hand-painted, colonial map of Nuevo Mexico and El Paso: the future states of New Mexico and Texas resulting from the U.S.-Mexican War (1846-48). Upon this wall, photographs of Ramoncita and Nepomuceno, the two key figures of the show's narrative, invite the viewer to delve into both the map and their unfolding story.
There are a number of complicated themes and processes underlying this show and all are key to fully understanding and appreciating the experience that Gonzales-Day's art provides…