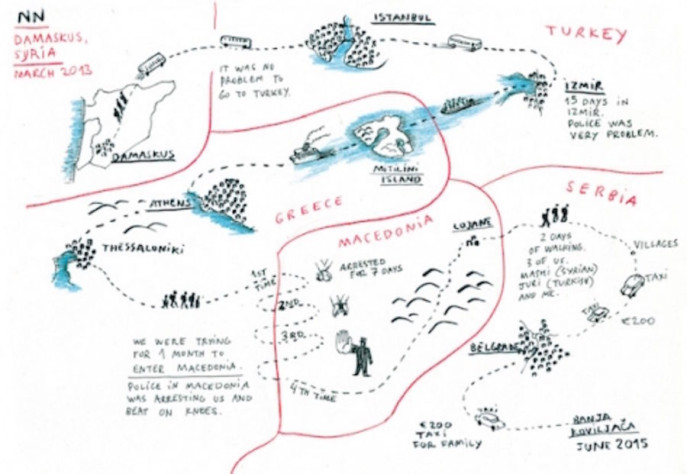 by: Ellen C. Caldwell
for Riot Material
It is obvious from the map, an exhibition at REDCAT organized by Thomas Keenan and Sohrab Mohebbi, showcases a variety of maps, videos, archival material, and other multimedia ephemera that highlight migration, migrant rights, and social justice in both the twenty first century and the age of surveillance. This timely exhibit juxtaposes a variety of maps, ranging from hand-drawn maps passed and exchanged by migrants, to governmental maps used for tracking and surveillance purposes, to artistic renderings that visualize various migrants' stories, to geospatial mappings.
The next room features a series of hand drawn and cartoonesque maps lining one entire wall. These were illustrated by Djordje Balmazovic (Škart collective) in collaboration with migrants and asylum seekers in order to visualize and recreate their extreme and tedious journeys. These maps emphasize the obstacles and tragedies that so many people must endure in attempting to migrate to safety. Many of the illustrations detail these trials and tribulations, and the variety of ways that people put their lives in danger for year-long interludes along the way.Walking into the exhibit, viewers enter a room surrounded by four projected videos. Scenes of movement and migration fill viewers' sight lines while noises from the films, such as heavy footsteps, crowds' moving, and atmospheric sound from overhead take over one's auditory perception. This first room creates a startling and appropriate liminal point of entry. Viewers are certainly no longer in the spacious hallway of REDCAT where pedestrians pop by for a cup of coffee. This room creates an area that is strangely peaceful and chaotic, compelling viewers to immerse fully.
The next room features a series of hand drawn and cartoonesque maps lining one entire wall. These were illustrated by Djordje Balmazovic (Škart collective) in collaboration with migrants and asylum seekers in order to visualize and recreate their extreme and tedious journeys. These maps emphasize the obstacles and tragedies that so many people must endure in attempting to migrate to safety. Many of the illustrations detail these trials and tribulations, and the variety of ways that people put their lives in danger for year-long interludes along the way…